Top 7 Bootstrap Templates for Your Photographer's Portfolio
Bootstrap is a great starting point for building a cutting-edge website and displaying projects in a smooth way. In fact, Bootstrap templates are a trendy choice as of today. Developed with a mobile-first approach, such Bootstrap templates are well-suited for creating of portfolio, business, blog, personal or e-Commerce websites. Hence, today set your eyes on these Top 7 Bootstrap Templates for Your Photographer's Portfolio and choose any of them for your website. TemplateMonster's team of professionals did their best and develop these stunning portfolio Bootstrap templates to help you build a website with ease. Thus, the purpose of this post is to help you create defined portfolio website with one of these stunning Bootstrap templates.
Depending on your business needs you can tweak the layout of all these portfolio Bootstrap templates without effort. Loaded with tons of useful features, the Bootstrap templates can help you build a beautiful portfolio website even with a skill gap. So why has Bootstrap framework become popular? Why do most designers and developers choose it for building websites? There are more than hundreds reasons why you should choose a Bootstrap template for your website. In short, Bootstrap is a flexible grid system for front-end web development that does the work for you. It simply saves your time spent on developing and designing a website thanks to CSS preprocessor and dozens of built-in JQuery plugins. This framework enables both newbies and experienced users to create fully responsive layouts for web pages with the help of the 12-column grid system. Take advantage of using portfolio Bootstrap templates and create a website with an immersive user experience. Besides, Bootstrap framework includes HTML and CSS-based design templates for different interface components, such as buttons, navigation or alerts. This means that any Bootstrap template is versatile and never goes out of style.
Overall, if you are looking for the best solutions for your web project, these Top 7 Bootstrap templates for your photographer's portfolio is the surefire way to go. All of them are rock-steady since developed in accordance with the modern web design techniques and standards. No need to reinvent the wheel. Start creating your beautiful portfolio website without extra coding of single site components. As a mobile-first framework, Bootstrap websites display correctly for almost all last-generation digital devices available. Furthermore, thanks to a dedicated free 24/7 custom support and TM Service Center assistance, you get a worry-free website within 24 hours that will stand out from the pack. The last but not the least reason to choose portfolio Bootstrap themes for your website is easy integration with any platform. Fear not to choose at least one of Top 7 Bootstrap templates for your photographer's portfolio to create, expand and manage your website with ease.
Superior – Photographer Portfolio Responsive Website Template
A nice and powerful portfolio Bootstrap website template well-suited for photographer or design portfolio web pages. Thanks to its responsive layout, the templates adapts automatically to any digital gadgets and screen sizes. Take the complete control over the website and design it to match your business needs the best.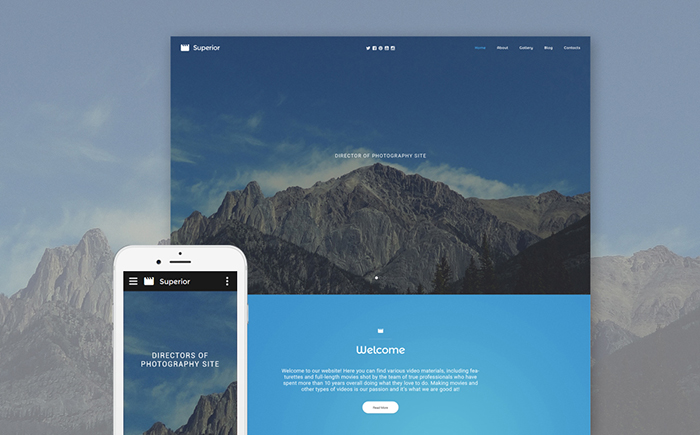 Wedding Photographer Portfolio Web Template
A beautiful and modern Bootstrap template is a great option for those who need to create an impressive portfolio website. Catch your visitor's attention with inspiring images, romantic atmosphere, and a mild color palette. The template is responsive, cross-browser compatible, clean-coded as well as easy-to-edit.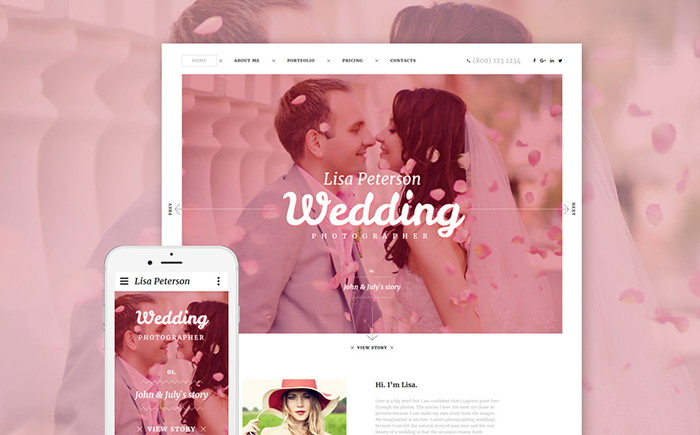 Touch Photo – Portfolio Website Template
This creative and cutting-edge Bootstrap template will display your exceptional works and help catch your visitor's eye. No matter what digital devices your visitors use when browsing your website, be sure they will have an immersive user experience thanks to the responsive and clean layout of the template. Make any changes you need to meet the tastes and needs of your prospective customers.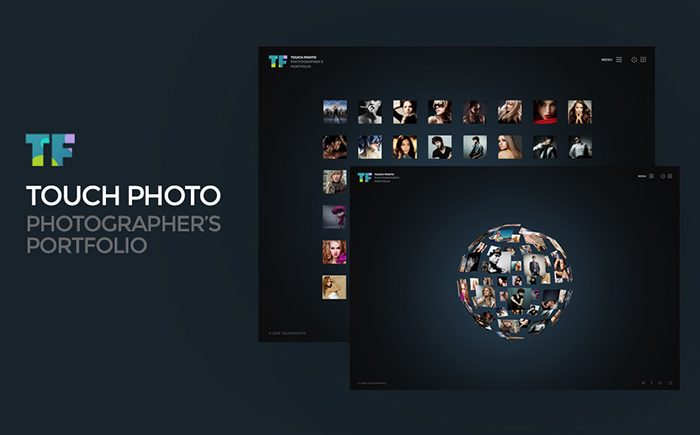 Jonathan Abrahams – Portfolio Responsive Website Template
A nice and modern Bootstrap website intended for portfolios of photographers, artists or other creative folks. Designed with care, the template is easy-to-edit and navigate. The template comes with responsive design, Parallax effect, cross-browser compatibility as well as clean valid code. Social sharing buttons will help find your pages with a click.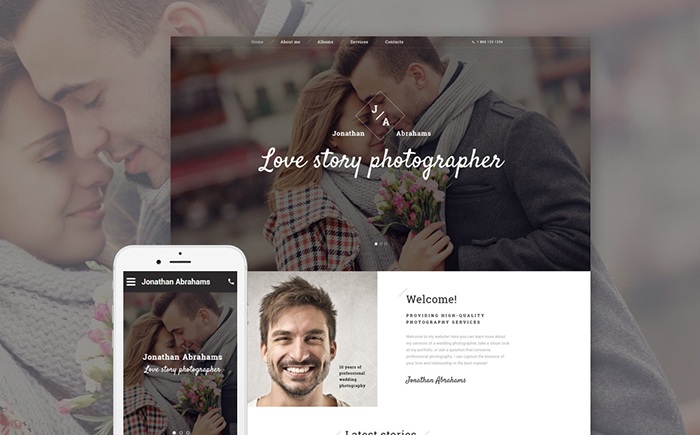 Intense – Photographer Portfolio Site Template
Another powerful and modern Bootstrap template which can be a rock-solid foundation for your portfolio website. Built in black-and-white colors, the template gives creative and impressive overall look and feel. It comes with a clean and minimalist layout, stylish and responsive design, social media options and a clean valid coding.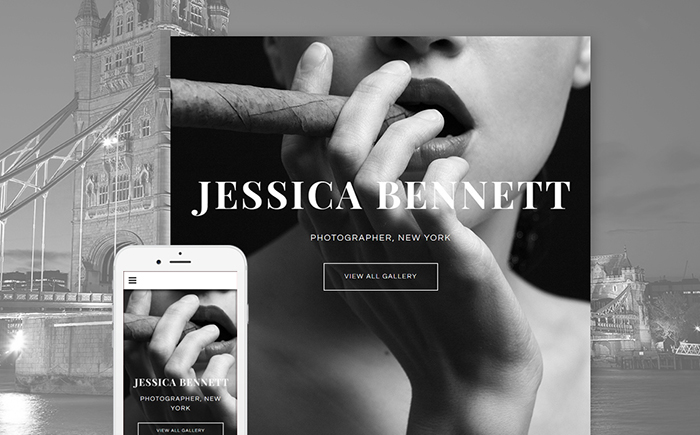 Rombic – Fashion Photographers Website Template
Do you what to stand out from the pack? Then give a try to this modern and creative Bootstrap template well-suited for fashion portfolio websites. The template is clean and easy-to-navigate, responsive and cross-browser compatible, enhanced with Parallax effect although. Build an online portfolio website which looks perfect on any modern device.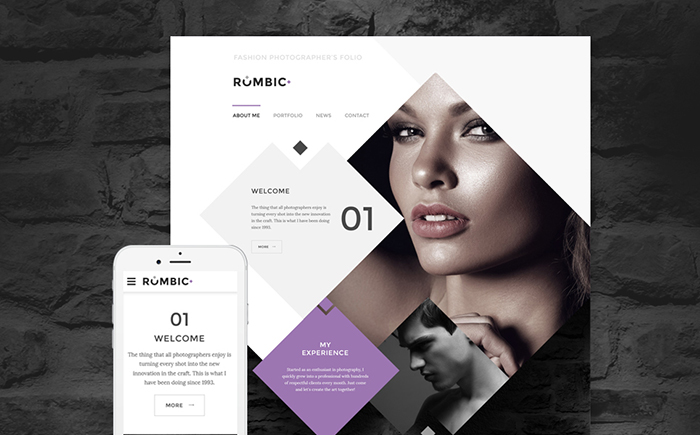 Timex – Creative Design Website Template
A nice and modern Bootstrap template crafted with care to help you build up a creative portfolio website with ease. Equipped with useful features and customization options, the template can help you display your creative works in the best way possible. Give a try to this powerful template and create a portfolio website that stands out from the crowd.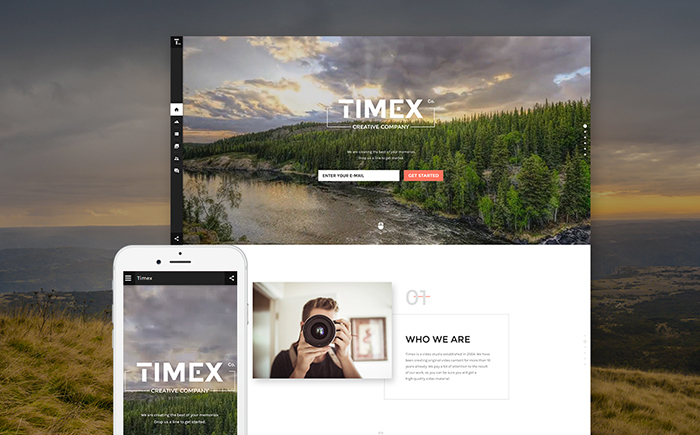 At last, grab any of these modern portfolio Bootstrap templates and attract the visitors visually. Bear in mind, a good design is nearly invisible but purely delightful. Turn your portfolio website into a visual masterpiece and drive more traffic. Let your website work in favor of your business. Good luck!