This is, probably, the most open-ended question ever. Any person starting a new business should put some thought into it. There are infinite ways to start a business and explaining them all would be impossible. So we are just going to focus on one that have worked for many entrepreneurs and provide you with top ready-made designs from TemplateMonster.com to help you create your online presentation quickly and cost-efficiently.
Let's imagine that you are going to sell online training/courses.
Here's what you need to do to start selling your product:

1. Choose a profitable niche. You need to find a profitable niche to build your blog first. You will see the examples of quality appealing templates right under this text, they will considerably simplify this job for you.
2. Build a blog with a platform you prefer, it may be WordPress and Bluehost, for instance. Go to Bluehost, find a domain name, choose your plan and set up your blog with WordPress. This should take a few minutes.
3. Use ConvertKit to start building an email list. Building an email list is a key point in this process. Growing a highly engaged email list is one of the best ways to sell your products and services online. To build your email list, you will need an email service provider like ConvertKit, Mailchimp, or Aweber for example. Since building an email list is so important, the following steps (4 to 9) will show you 6 ways to grow your email list rapidly.
4. Optimize your blog to convert visitors into subscribers. Use your blog to collect email addresses. Add optin-boxes to your site, pop ups, and so on. You can do that easily with Sumome.
5. Write 5 high quality blog posts with content upgrades. Share some epic content on your blog. Don't hesitate to give away your most valuable tips and advice to establish yourself as an expert in your niche. Use these amazing pieces of content to grow your email list by creating and adding content upgrades to them.
6. Drive traffic to your site with Pinterest. Pinterest is an incredible way to drive traffic. It's possible to get 10,000 visitors/month from Pinterest and attract 15 – 20 email subscribers/day just with Pinterest in 2 months. If you want to get the same results, create a free Pinterest business account, set up 10 boards, create 10 pins to share your blog posts, join group boards and automatically share your pins with Boardbooster.
7. Drive traffic to your site with StumbleUpon ads. If you added content upgrades to your posts, you should get between 3–10% conversion rate, which means that if you pay StumbleUpon to send traffic to your blog post, you will get 3–10 subscribers for every 100 visitors. That's a great way to build your email list.
8. Grow your email list with other bloggers' newsletter. Build relationship with other bloggers and ask them to promote your newsletter in their newsletter. Basically ask them to convince their subscribers to join your newsletter. To get bloggers to do that for you, you can either offer them to do the same thing for them or pay them (you basically sponsor their newsletter).
9. Run a contest and promote it with Facebook ads. Running a contest is powerful way to explode your email list especially if you promote it via Facebook ads. Running a contest you may spend $100 on Facebook ads and attract more than 1,000 subscribers in 14 days. With a $5,000 budget you should be able to get much more subscribers than that.
10. Send a survey to your email subscribers. Step 4 to 9 were all about building your email list (aim for at least 5,000 email subscribers). Now you need to figure out what your email subscribers want. The best way is to send them a survey using Google Forms. You want to know who they are, what they need, what they want so you can then cater to their needs.
11. Create a product/service/program that your subscribers want. Now that you know your subscribers better, you can create the product/service/program/software they actually want.
12. Launch your product. When your product is ready and that you've set up your shopping card with Clickank or Gumroad, for example, you need to create an email campaign to sell your product.
13. Make money. Depending on the size of your email list, your subscribers' engagement, your landing page and your email campaign, you should be able to make anywhere between $10,000 to $200,000 with these 13 steps.
And sure, take a look at these top 5 bootstrap website templates to build your online presentation with:
Exquisite Garden Design Website Template
A trendy and stylish layout of this responsive website template will be a perfect match for landscape design, decor and furniture web projects. It features a spacious layout, with the main emphasis put on visuals and stunning animation effects. The theme is also quick and intuitive to browse. A horizontal menu bar remains in a fixed position at the top of the page. The theme is also integrated with the most popular social media options.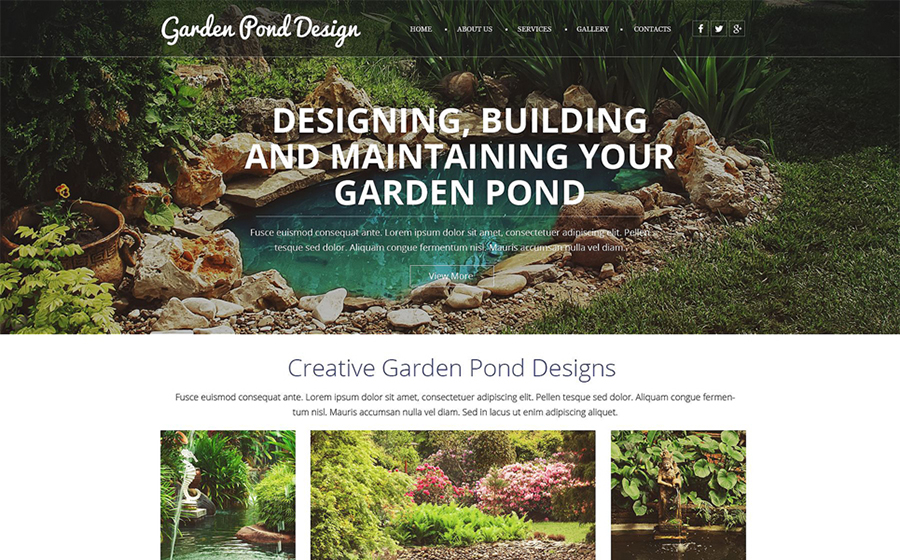 Professional Photographer Bootstrap Template
This is one of the multiple micro-niche skins belonging to the family of Intense child themes. Designed in the classy black-and-white style, it brings special charm to photography portfolio websites. The theme features an ultra-responsive layout, which will run flawlessly in a variety of web browsers. A number of ready-made HTML pages, an impressive UI kit, a set of layered PSD files, and other smart options are intended to speed up the process of the theme's customization to a great degree.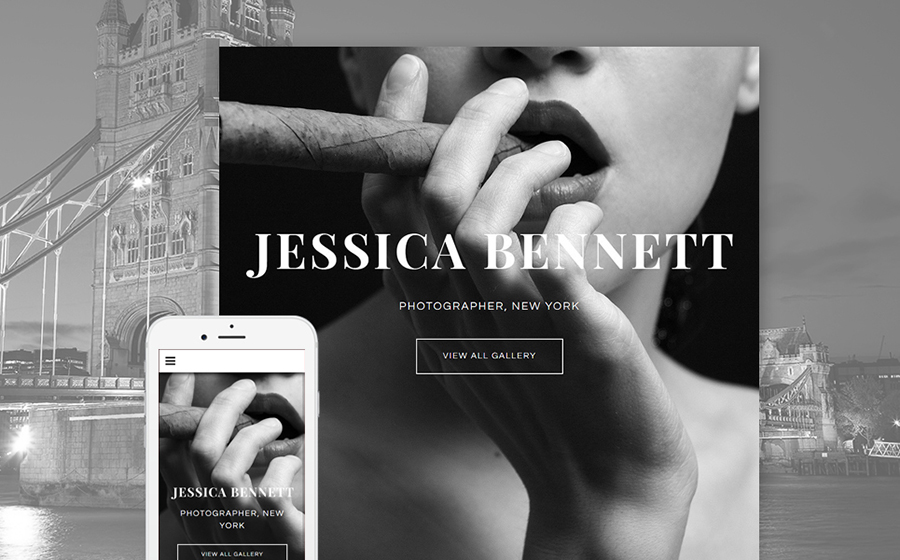 Soho – Photographer Portfolio Bootstrap Template
The theme will become a rock-solid starting point of photography and portfolio sites. It features elements of vintage style, which are so popular on the modern web. The theme runs on the fully responsive framework, which is intended to adjust every single piece of content and element shared on your site's pages to all screen sizes available. There are loads of options intended to display your creative works online. These are a full screen slider, gallery albums, masonry portfolio, striped templates, and much more.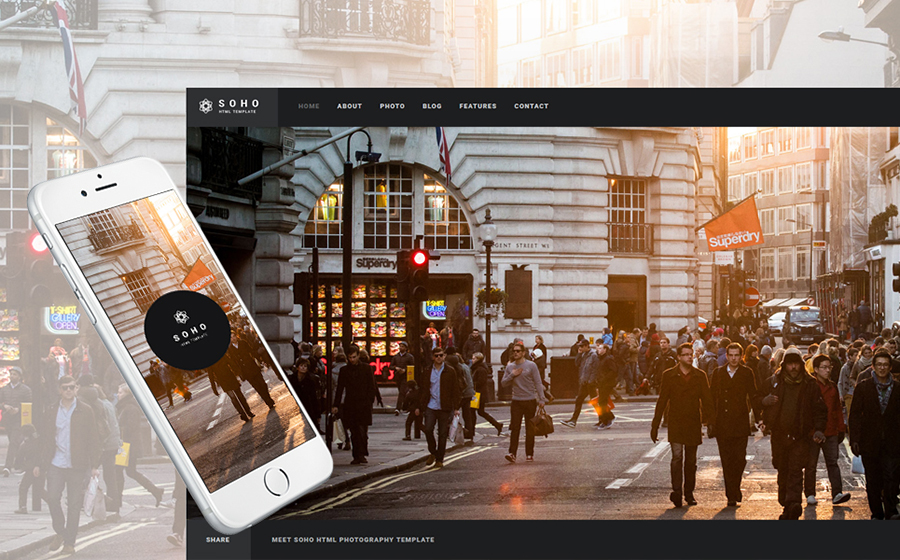 Visage – Plastic Surgery Clinic Web Template
Visage is a multipurpose responsive website template, which is best suited for building medical, healthcare, and beauty-related web projects. Over 45 ready-made HTML pages are ready to be brought to live straight out-of-the-box. The theme includes multiple header and footer options, which are intended to help you update the layout with the desired look and feel effortlessly. Your clients will appreciate the possibility to book an appointment on the site due to the integrated appointment manager.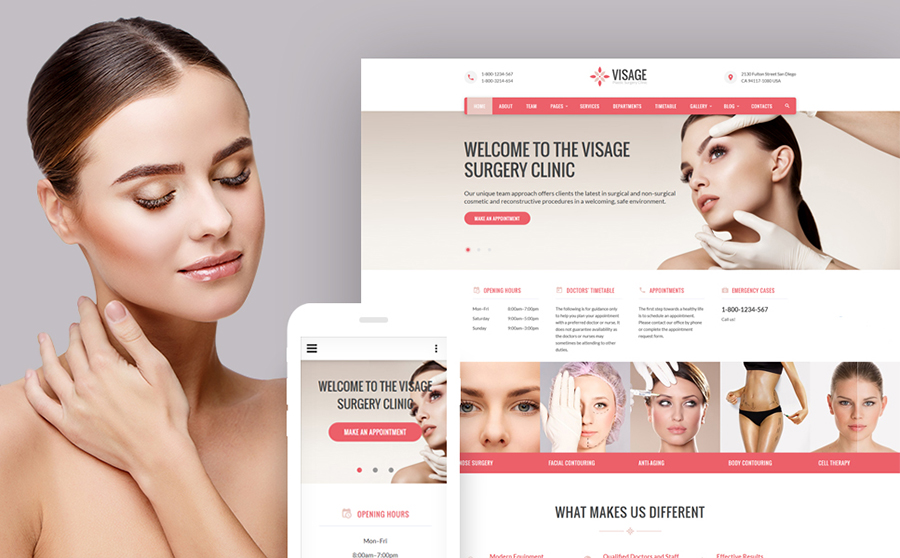 Intense – Multipurpose Website Template
Intense is a multipurpose HTML template that combines a powerful set of features and a striking visual appeal under the hood. It includes a growing collection of child skins, which are available for the theme's owners for free. The theme boasts a rich variety of advanced customization options, a rich UI kit and a handful of pre-designed layout elements. The theme can be used for personal and business sites, blogs, online portfolios, and eCommerce projects. The download package includes pre-designed templates for all of these purposes.